I have recently change to my new phone, the HTC Tattoo.. thus i would like to do a quick review on this Android powered HTC smart-phone.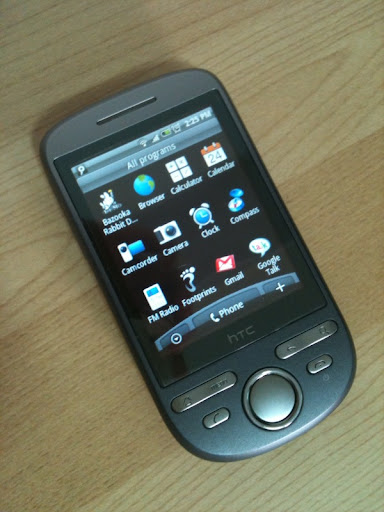 The HTC Tattoo is powered by Qualcomm® MSM7225 528MHz processor, with 512MB ROM and 256MB RAM. Weighted only at 113 grams (with battery), its 106 x 55.2 x 14 mm size equiped with a 2.8-inch TFT-LCD touch-sensitive resistive type touch screen with 240x320 QVGA resolution.
Connectivity wise, the Tattoo comes with internal GPS antenna, Bluetooth® 2.0 with Enhanced Data Rate and A2DP for wireless stereo headsets, Wi-Fi of type IEEE 802.11 b/g and HTC ExtUSB™ (11-pin mini-USB 2.0). Apart from supporting Quad-band GSM/GPRS/EDGE, the Tattoo also gives support on HSDPA/WCDMA.
Enough for the boring specification. Now is time go go through some real review of the phone.
As i mentioned in the earlier section of the article, the HTC Tattoo is operated on the Google's Android 1.6 operating system. This version of Andriod had included the Sense UI which greatly improve the look-and-feel as well as interactivity and allow more customization with the widget concept.
The home screen of the HTC Tattoo (Android) is divided into 1 home screen and 6 other pages. All of the 7 pages can be freely customized to add and display shortcuts, widgets or applications. User may drag and slide to left or right of the screen to switch from one page to another. There are plenty of widgets and application for Android available from the Android Market.
Due to the smaller resolution (240 X 320) than the standard HTC (320 X 480), there are still a lot of useful applications and widget are still only available for the standard resolution type. It might take quite a while for it to catch up with the number of ready applications and widgets.
Due to the same reason, the virtual keyboard of the HTC Tattoo seems to be a little bit too small. However, the lanscape mode keyboard turn out to be a little bit better. However, with the word prediction feature turned on, you may use any mode of the keyboard without the need to worry about being accurate in hitting the right key. The word prediction works flawlessly in predicting the word you wish to type base on your typing pattern on its keyboard.
However, there is one interesting finding from my use of the HTC Tattoo's keyboard. It seems that the equal sign "=" key is missing from the keyboard. Please let me know if you do find this key from within. :)
For its connectivity, the HTC Tattoo smartly switch between WiFi and Mobile Network when it comes to data connectivity. When both are turned on, the device will smartly switch to WiFi when it is available, and switch back to Mobile Network when WiFi is not available. However, i did realise some issue when i am connected to WiFi. When the phone goes into its standby mode, the WiFi will be disconnected automatically after a while and reconnect only when you re-activate the screen from its locked status. This is causing problem to my mobile messenging services because it will get disconnected when th WiFi is turn off. However, this problem does not occur when i am using Mobile Network for my data.
Another issue i found during my use of the HTC Tattoo is that for most program you have previously run or executed, after closing the application, the process is not completely ended. However, it remains running in the background and continuously occupying the memory. And due to the reason that Android does not have anything built-in like a task manager of Windows system, you can not do anything but only to restart your phone to get those unused program terminated. Luckily, there are some Android application developer who realized this and created a task killer application (available from Android Market) which allows you view all running program and selectively kill those which are no longer in need to free up the memory space for the Android system.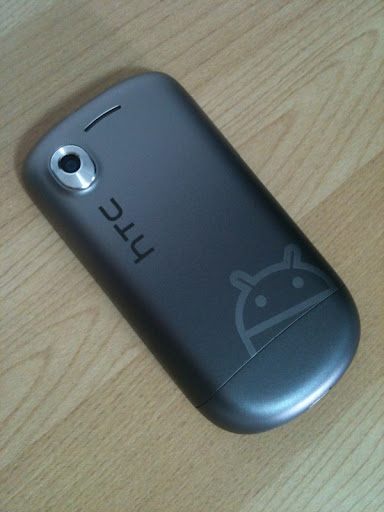 And the next thing i would like to comment will be its 3.2 megapixel camera. I realise that whatever photo i took using its camera, the picture always turn out to be a little bit off-focus.
Overall, i would say that in terms of usage, the HTC Tattoo is really a phone worth for its value. With the Google's effort in promoting an expanding its market share in the mobile market, i strongly believe that the Android still has much to expand. With the number of Android's application developer out there in the community, to reach the capacity of what iPhone have to offer today is just a matter of time, and i believe that it won' be too long. If the mentioned issues described in the earlier session of my post were be able to resolved, i am most happy to be a loyal fan of Google's Android.
What say you?? :)